REQUEST A QUOTE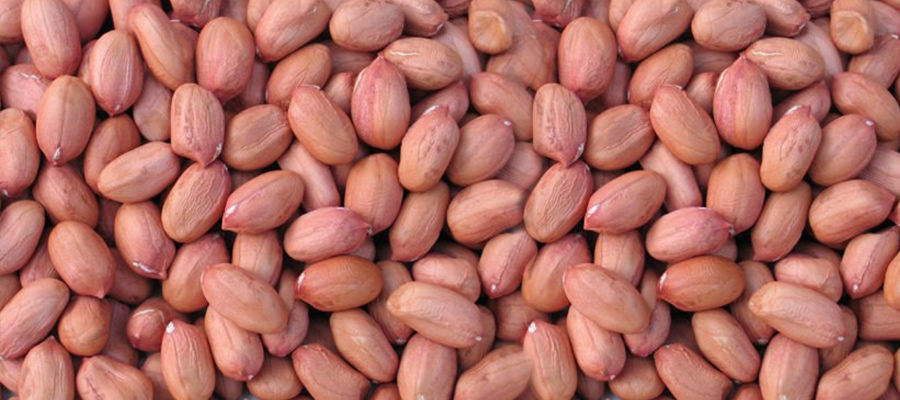 | | |
| --- | --- |
| Country of origin | Paraguay |
| Harvest period | November to December and June to July |
| Color | Dull pink |
| Packaging | Paper/poly bags in 10 to 25 kgs |
| Labeling | As per your requirements |
| Shelf life | 1 to 2 years |
| GMO Status | Not genetically modified. |
| Specification | Send request to get more details. |
Groundnut, what is it?
Groundnut is alternative name for peanuts and monkeynuts. They're grown in heat countries and from them come a lot of the oil employed in creating a merge.
Groundnut plants look rather like terribly giant clover plants and have small yellow flowers. Once these are impregnated, the flowerstalks bend down and force the fruit that is then developing, towards the soil. This is why they are referred to as ground-nuts, as they're found within the ground and got to be dug up. The fruit may be a white pod with from one to 3 seeds within it. Ground-nuts grow mostly in light or sandy soils, for if the soil is stiff or clayey the pods won't enter it easily. Some groundnut plants are upright; others are spreading, and then the nuts are scattered within the soil.
Advantages of Groundnuts
Peanut kernels provide plenty of dietary protein; compose fine quality amino acids that are essential for growth and development.
Peanuts are a wonderful supply of resveratrol, another polyphenolic inhibitor. Resveratrol has been found to have been protecting against cancers, cardio-diseases, chronic nerve malady, Alzheimer, and viral/fungal infections.
Recent studies suggest that roasting/boiling enhances inhibitor bio-availability within the peanuts. It's been found that stewed peanuts many a times have two and four-fold increase in isoflavone antioxidants biochanin-A and genistein
The seeds are filled with several necessary B-complex teams of vitamins like vitamin B, niacin, thiamin, pantothenic acid, victuals B-6, and floats. 100 Gms of peanuts give eighty-fifth of RDI of niacin that contribute to brain health and blood flow to the brain.
The kernels are a wonderful supply of vitamin e (a-tocopherol) i.e. concerning 8g per 100g. Vitamin E is a powerful lipid soluble inhibitor that helps to maintain the integrity of cell membrane of mucus secreting membranes and skin by protecting from harmful oxygen free radicals.
We have the premium quality ground nuts to offer you.